Simply Better Technology for your business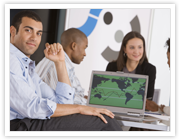 In today's competitive environment, successful organizations are looking for business and technology solutions that help increase revenue, maximize productivity, ensure security, and enable them to scale for the long-term.
LammTech's Technology Management solution can add strategic value to your organization, providing you the following benefits:
High availability of systems and business applications
Increased security
The ability to focus on core business competencies instead of IT
Reduced business risks
Reduced unnecessary IT spend
Increased business continuity and productivity
Access to new technologies and IT expertise
Help in responding to changing business conditions
A competitive advantage
Guidance and direction for technology solutions
Technology can help your organization grow, and we produce and manage that technology. We keep businesses up and running, resolve problems quickly and efficiently, and provide personal attention and guidance every step of the way.
LammTech's comprehensive IT Management solution includes:
IT Infrastructure support/maintenance
Remote monitoring and problem remediation
Network security and management
Local help desk support – 24×7
Backup and Disaster Recovery
Customized reporting
Quarterly Business Reviews
Technology Roadmaps
Vendor Management
Hardware & Software procurement
Management of Hardware warranties and Software licenses
Lifecycle Management
Risk, regulatory, and governance compliance fulfillment
IT Policy creation
Focus on expanding your business and stop expanding your problems.