Eliminate technology pain and focus on patient care.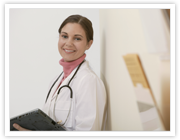 LammTech understands the complexities of healthcare IT. When even the smallest technology-related issues arise in today's healthcare environment, critical business processes can slow down or stop, and the problem escalates.
With LammTech managing the day-to-day technology needs of your organization, you will have assurance that your systems and workflows are running at optimum performance, allowing you to focus on what's important: improving outcomes and the patient experience.
No matter the size of your practice or its stage in the process of Meaningful Use adoption, LammTech is up-to-date on the latest compliance regulations and has the expertise to advise you through the process of selecting, implementing, or optimizing the right EHR/EMR system for your organization.
Here's how LammTech will help:
Assure optimal performance of mission critical applications and EHR/EMR systems
Enable secure access to critical patient information from any approved device
Mitigate exposure to HIPAA and HITECH compliancy violations
Coordinate support activities between integrated software vendors
Develop a predictable technology budget
If you are a provider or office manager responsible for technology in your organization, contact us to learn how we can help free up your time to focus on patient care and managing your practice.