IT you and your customers can count on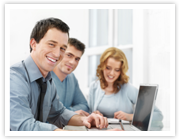 Supporting technology for community and local banks requires a great deal of technical expertise and experience. Over the years, LammTech has become successful in supporting banking networks and proficient with all major data processing systems.
LammTech will develop a technology strategy to help you face the challenges of tightened budgets, interindustry competition, evolving compliance reform, and increasing expectations from shareholders and customers.
Today, the banking industry is challenged to meet federal compliance and protect against threats and vulnerabilities, while maintaining high service levels. By understanding the current security controls, LammTech can develop an IT infrastructure which enables IT services to meet business goals while adhering to federal regulations.
Stay Secure, Connected and Close to Customers
Whether you are working at the main branch, in a remote office or require data outside the corporate firewall, LammTech can create an IT platform which enables your organization to provide excellent service, secure customer data, increased efficiencies and reduced costs.
Maximize internal processes to decrease banking inaccuracies and boost organizational performance
Improve integration of services to increase functionality, lessen time addressing client needs, shorten business cycles and obtain new revenue channels
Enable communication that reduces response-time, permits greater collaboration and better customer service
Banking Services
Daily Support
IP Telephony
Network Documentation
Systems Monitoring, Migrations, and Upgrades
Router and Firewall Maintenance and Support
Software License Management with Renewal Notifications
Hardware and Software Procurement
If you're looking for reasonably priced, professional technology management, give LammTech a call.