Anyone familiar with Excel knows that it offers a multitude of tools to help keep your data organized by creating spreadsheets, tables, charts, and more. Excel 2016 has some great updated features to streamline processes and give you the ability to present your data in a way that makes it stand out and pack a punch. Working with Excel doesn't have to be a nightmare, in fact, in can be as simple as knowing the right buttons to click to get the desired results!
1. Tell Me Search Box
This new addition to the Home ribbon lets you quickly find the feature or command you are looking for. Typing a key word or phrase into the search box prompts a drop down with results relating to what you typed. Every keystroke refines your results so that you can choose the option or command that you are looking for. You also have quick access to Help content or options to get more information online. No need to hunt through the ribbon to find what you need, its right at your fingertips!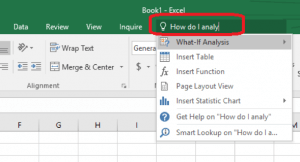 2. Smart Lookup
Fact-checking just got easier with Smart Lookup powered by Bing! This feature allows you to highlight terms within your document and bring search results from around the web into your reading or authoring environment. You can use Smart Lookup by selecting a word or phrase in your document, right clicking, and choosing Smart Lookup (previously the Research button). This opens the Insights pane with definitions, Wiki articles, and other top related searches pertaining to your highlighted information.

3. 3D Maps
This feature is perfect for those who deal with data that has geographic properties such as rows and columns that contain city names, states, counties, zip codes, etc. If you are familiar with other versions of Excel you'll recognize 3D maps as the previously named Power Map.
3D maps allows you to discover patterns in your data as well as adds three dimensional visualization. It also has the ability to handle more than one million rows from an Excel table!

Bonus: If you are a visual person, take a look at the six new chart types that were added to Excel 2016! You can now chart your data with Treemap, Sunburst, Histogram, Pareto, Box & Whisker and Waterfall. Play around with each and decide which works best for your data!
4. Get and Transform (Query)
Get and Transform may look familiar if you used Power Query for Excel in previous versions. It can be found on the Data tab in the Get & Transform section and allows users to discover, combine, and refine data across numerous sources. You can now work with data from multiple platforms such as corporate databases, public websites, cloud based sources, and services like Salesforce. You can also combine data from multiple sources to create models and once you've completed your query, you can share your findings and use them in reports.

5. One Click Forecasting
The last tool on our list is a perfect addition for users who work in sales, use Excel to track inventory, or are tasked with predicting consumer trends. One Click Forecasting can be found on the Data tab in the Forecast Group. It allows the user to take historical data and a series of corresponding values and create a visual forecast that can be used to explain and understand future trends. Highlighting your data and clicking the Forecast Worksheet box will create a new worksheet that has both a table of historical and predicted values as well as a chart that expresses the data. Manipulating how your charts appear is simple and hassle free by changing the advanced settings.

These are just a few of the new and updated features offered in Excel 2016. We encourage you to explore these and other features the next time you need to gather information, manipulate data, or create a professional presentation in Excel.
LammTech understands that downtime and interruption of work flow aren't an option when updating or implementing new software. This can be a daunting task when you work in a fast paced business environment. Let us advise and assist in making the process as smooth as possible for you and your business. Call LammTech today!