Update 7/1/2020
Since it's publication in 2014, the steps to removing background color in Outlook have consistently been one of the most popular posts on our blog. It may come as a surprise that these steps continue to work in newer versions!
If you need to remove a pesky background in order to read or reply to an email, follow the steps below, no matter what version you're working in!
How to Remove Background Color in Outlook 2013
Here's a really quick tip on how to deal with replying to emails that have an annoying background color.
Don't change your font-color to white so it shows up on that black background. Just remove the background color! (This works for Outlook 2013 and 2010.)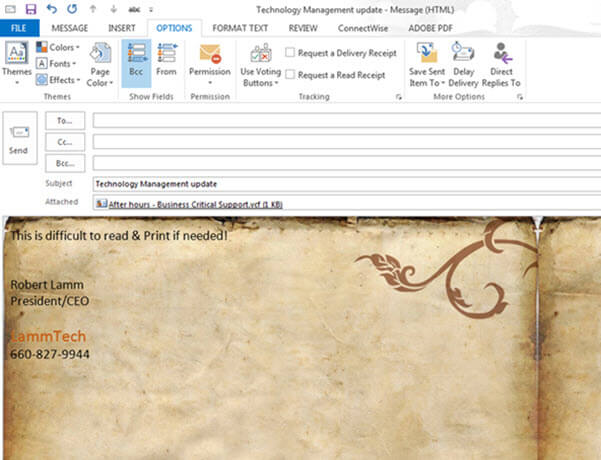 After you've hit "Reply" to the offending email, go to Options on the Ribbon.
Under Themes on the left of the Ribbon, click on the down arrow next to Page Color, and select "none" (or "white").
You've just saved yourself and the recipient, and anyone else in a string of future emails, from getting a headache.