In the LammTech April newsletter we discussed the types of questions business owners and managers should be asking the IT professionals they work with in "Top 5 Questions You Need to Ask Your IT Guy – NOW". This translated into the perfect topic for Robert Lamm, LammTech's CEO, to speak about at the Sedalia Chamber of Commerce's Member Breakfast for the month of May.
While there are many questions to ask when meeting with your IT department or managed services provider, the April article and May 11th presentation focused primarily on the safety and security of both your data and your network. According to a report published by Symantec in April the number of detections of Ransomware was 340,665. In 2016 that number escalated to 463,841 and the average ransom amount requested rose from $294 to $1,077. That's an increase of $713!
Research suggests that Ransomware and other types of viruses are on the rise. Also the people who are creating and deploying these malicious programs are getting smarter and greedier. Presentations like the one given to the chamber are so important to inform business owners of the dangers they could face and remind them to be mindful of their businesses data.
In his presentation, Rob reiterated why it is critical to be asking questions and staying informed, "As a business owner you trust your IT professional to protect your digital assets. You need to be sure—Trust but Verify is an old adage that still proved valid today." Accountability is needed to ensure that your business continues to run smoothly and your data stays protected.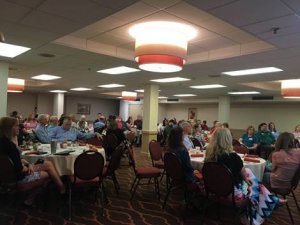 A great chamber crowd of business owners and community leaders added to the discussion with insight and questions. Some in the room have had firsthand experience with Ransomware and shared their stories of how their business resolved their issues. Others asked questions in order to better understand how to protect their data. Overall, it was a great morning spent with members of the Sedalia Chamber of Commerce!
If you have any questions or concerns about your business's data protection, or would simply like a second opinion give us a call at 660-827-9944. We would love to chat about how LammTech can help!